CUSTOM INLAY | GUITAR INLAY
No matter what your need, we are the specialists than can handle your job. Contact us today for a free quote!
CUSTOM INLAY | GUITAR INLAY SERVICES
We are custom inlay and guitar inlay specialists who lead by example with generational knowledge and cutting edge technology. We take pride in bringing your blank canvas to life to be cherished by many generations to come. VanWhy Inlay design has the capability to create any custom inlay that you could possibly dream up. Regardless of the object you want to inlay or the material you want to use for your guitar inlay, our inlay specialists will provide you with top quality craftsmanship at an affordable cost and with a great completion time frame. Whether you want custom guitar inlays, fret board inlays, or inlays for a family heirloom, our team will provide you a customized quote that will fit your needs.
Whether it's your guitar, a family heirloom, or a side project, we take pride in what we do and treat it as if it were our own. It is our privilege to bring your blank canvas to life for you to love and future generations to cherish. Being the industry leaders in custom inlay is something we pride ourselves on and we continually strive to raise the bar on what we do. The next time you have a project that needs a little something, we would be honored to be the team that creates that memory for you.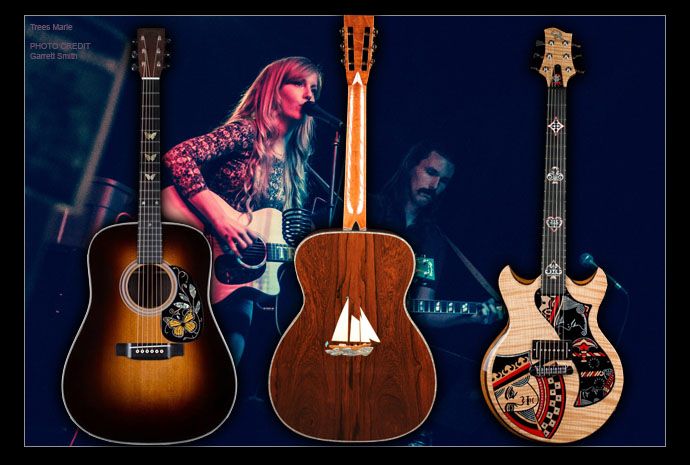 In addition to offering custom inlay and the highest quality Luthier Services to customize and improve the play-ability and life of your instrument, we are also a fully functional shop facility with a full complement of wood working equipment. GUITAR INLAY – FRETBOARD INLAY – CUSTOM PICKGUARDS – HEADPLATES – FINGERBOARDS – GUN STOCKS – JEWELRY BOXES and more…
I am CRYING. This is so beautiful. THANK YOU THANK YOU!!! I can't wait to play it and have it as a keep sake forever. You're a magician. Such incredible work.
-Joe Carroll
I received the pick guard I couldn't be more pleased. Your work is a masterpiece.
-Mike, Clifton Park, NY
Hey Aaron, as expected you did a great job. Thanks again and I'm sure I'll be in-touch soon for another project for you to complete.
-Lary Homer, AK
My guitar just got here a few minutes ago and it looks amazing. Thanks again.
-Jason, OH
Thank you so much Aaron for being so professional. I will sing your praise whenever I meet another luthier.
-Hans, Sweden